Artificial Christmas Trees
Explore the wide selection of lifelike and fashionable artificial Christmas trees at Horticentre. Our range includes various styles, shapes, and sizes, including slim-line options and pre-decorated and pre-lit varieties, catering to all types of homes and spaces. Crafted from premium PVC and PE materials, our artificial Christmas trees boast such remarkable realism that you'll struggle to distinguish them from their natural counterparts. Additionally, Horticentre offers a splendid collection of Christmas lights and decorations to complete your festive ensemble. Visit us today or shop online to elevate your holiday decor and create a memorable Christmas atmosphere.
Artificial Christmas Trees at Horticentre
At Horticentre, we take pride in offering a diverse range of artificial Christmas trees, available in an array of shapes and variants. Whether you prefer the classic and symmetrical look of a traditional Christmas tree, or you're seeking a modern and space-saving slim-line design, we have options to suit every taste and style. Take advantage of the benefits of an artificial Christmas tree and enjoy Christmas without any fuss. We offer:
Pre-lit Trees
Frosted and snowy Christmas trees
Mini-Trees
Our collection also includes pre-decorated and pre-lit artificial Christmas trees, taking the hassle out of holiday decorating and ensuring your tree looks stunning from the moment you set it up. With our selection, you can easily find the perfect artificial Christmas tree to bring festive joy to your home, all while enjoying the convenience and longevity that artificial trees provide. Our artificial trees are easy to assemble. Any questions about our range of artificial Christmas trees, or are you looking for a specific product? Please contact us.
Small and Large Artificial Christmas Trees Online
Discover a diverse range of artificial Christmas trees at Horticentre, available in a variety of sizes to suit every festive need. From charming mini artificial Christmas trees perfect for tabletops or adding a touch of holiday spirit to smaller spaces, to medium-sized artificial Christmas trees that fit beautifully in cozy living rooms, all the way up to majestic large artificial Christmas trees reaching heights of up to 7 feet, we have a tree for every home and budget.
Our extensive collection ensures you'll find the perfect artificial Christmas tree to transform your space into a winter wonderland. Whether you're looking for a compact tree to adorn your office or a grand centerpiece for your family gatherings, Horticentre offers an array of choices to cater to your unique preferences. Embrace the festive season with the ideal artificial Christmas tree that brings the magic of Christmas to your home, making it a season to remember.
Christmas Decorations in Overton
At Horticentre, our Christmas decorations are a true celebration of festive spirit, available both in-store and online. Whether you're seeking the perfect baubles and ornaments to adorn your tree or hoping to create a captivating holiday tableau with wreaths and garlands, our collection offers a wide array of choices to suit every taste and style. Illuminate your Christmas tree with our enchanting selection of tree lights, or add a warm and welcoming glow to your home's interior with lanterns that exude charm. For those looking to transform their outdoor space into a winter wonderland, we also offer outdoor lighting options to make your home shine with seasonal splendour. Visit us in-store or explore our online offerings to discover the magic of Christmas decoration at Horticentre.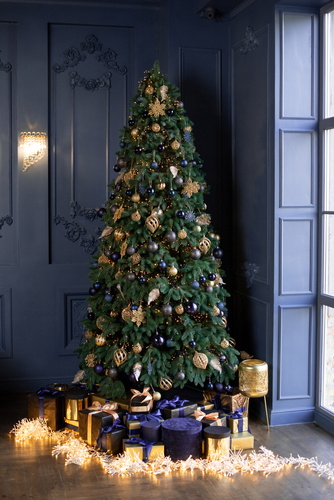 Why choose an artificial Christmas tree?
Cost-Effective: While the initial investment may be higher, artificial Christmas trees prove to be a cost-effective choice in the long run as they can be reused for many years, saving you money in the process.
Sustainability: Opting for an artificial Christmas tree is an eco-friendly choice as it eliminates the need for cutting down live trees annually. These durable trees can last for years, reducing their environmental impact.
Safety: Artificial trees are constructed from flame-retardant materials, ensuring a safer and more secure holiday season for your family and home.
Convenient Transportation: Artificial trees are lightweight and typically come in square boxes that are easy to stack and transport, making them a practical choice for those with limited space or those who need to store them.
Allergy-Friendly: Artificial Christmas trees are resin-free, making them an excellent option for individuals with allergies or sensitivities.
You can conveniently select and order your favourite artificial Christmas tree from the comfort of your home by shopping in the Horticentre webshop, eliminating the need for a trip to the store. Enjoy the ease and simplicity of online purchasing for a stress-free holiday season.
Buy artificial Christmas trees online at Horticentre
At Horticentre, we offer enchanting artificial Christmas trees to fill your house with a magical Christmas spirit. Get in the holiday mood by buying the right artificial Christmas tree. Make an investment you enjoy for many years. Can't find what you are looking for or do you have questions regarding our products? Please contact us.take a look at our fantastic range of indoor Christmas Lighting, Christmas Decorations and Christmas ornaments, too.