Wreaths and Garlands
This festive season, immerse yourself in the enchanting world of Christmas decorations available at Horticentre's webshop and our splendid garden centre in Overton. Elevate your holiday décor with our exquisite collection of wreaths and garlands, meticulously crafted to infuse the spirit of Christmas into every corner of your home. It isn't a proper Christmas without a beautiful wreath on the door. Whether you prefer a real one, spreading even a Christmas scent or an artificial one, looking as though you handmade it just now. At Horticentre we have a wide range of wreaths and garlands to give your home and garden just that extra seasonal spark!
All things Christmas at Horticentre
At Horticentre, we believe in making your Christmas celebrations unforgettable. Transform your home into a winter wonderland with our stunning wreaths and garlands. Visit our webshop for a convenient online shopping experience, or stop by our garden centre in Overton to witness the full splendour of our Christmas range. At Horticentre you'll find all you need for this year's Christmas decor, such as Christmas lights for indoors, lighting displays for outside your home, artificial Christmas trees and tree stands.
Christmas Wreaths at Horticentre
Explore our diverse range of wreaths that cater to various preferences. Adorn your door with the timeless charm of pinecone-studded wreaths or opt for the classic elegance of wreaths in traditional red hues. For a touch of sophistication, we also offer wreaths in pristine white, adding a touch of winter magic to your surroundings. Immerse yourself in the festive spirit with wreaths embellished with holly, capturing the essence of the season.
Garlands Galore in the Horticentre Webshop
Enhance the festive atmosphere with our extensive selection of garlands, available in different lengths to suit every space. Our silver tip garlands add a touch of glamour, while the red-dressed garlands exude warmth and richness. Choose from an array of sizes and variants to effortlessly upgrade your Christmas décor and create a truly magical ambiance.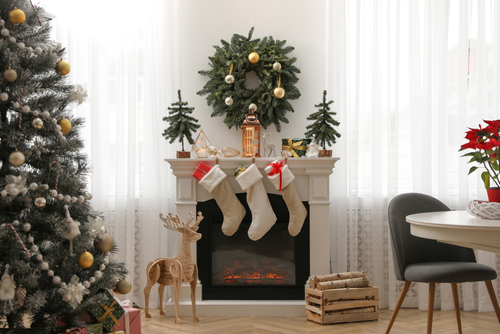 Visit Horticentre in Overton or shop online
For the complete Christmas experience, we invite you to explore our garden centre in Overton. Immerse yourself in the festive spirit as you stroll through our enchanting displays, featuring a wide array of wreaths, garlands, and other seasonal delights. Our knowledgeable staff is on hand to assist you in selecting the perfect decorations to make this Christmas truly special.