Seed Potatoes
Seed potatoes fresh from the ground is a great treat for the home gardener. But, before you can harvest potatoes, you need to plant seed potatoes. Growing seed potatoes is easy and affordable and at Horticentre we know all about how to make sure you are successful at growing your own. Shop our wide range of seed potatoes here in our webshop! Whether it is first earlies for boiling, second earlies for mashing or the best maincrop seed potatoes for crispy chips you're looking for, you can find it online in Horticentre's webshop!
Grow Your Own! | Free delivery within 5 mile radius | 1.5Kg = 10 potatoes/seeding | Harvest 13-15 weeks from planting
The different varieties of seed potatoes
First of all: seed potatoes are not seeds! Potatoes are grown from seed potatoes, which are tubers from the previous year's harvest. You can grow potato plants from supermarket-bought potatoes. Still, you're likely to get a better crop from commercially produced seed potatoes which have been specially selected for their performance and certified virus-free. Seed potatoes are available to buy from early spring and are categorised as first early, second early or maincrop depending on when they are harvested.
How do you choose the right seed potato?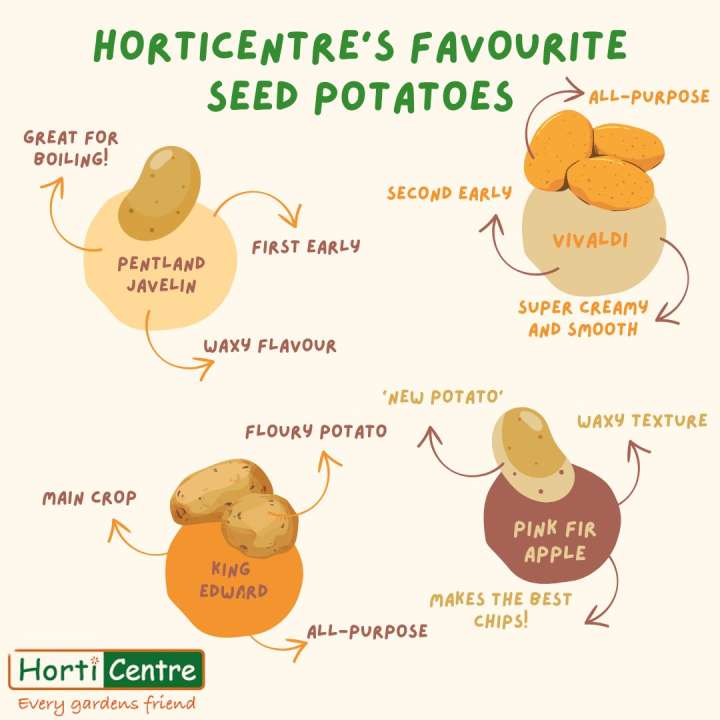 At Horticentre we know everything there is to know about seed potatoes! We're proud to have a wide range of seed potatoes and all the products you need to grow and harvest your own.
You can choose from many different varieties of potatoes. But how do you choose the right seed potato? In our webshop you can filter on weight, taste or texture, culinary purpose and colour.
Looking for a waxy potato that is great for boiling? How about our Pentland Javelin First Early! Want to make the best chips ever? We recommend the Pink Fir Apple, a waxy 'new potato' that gives you the crispiest chip!
We can help you with all your questions about what kinds of potatoes grow best in your area and which ones have the flavors and textures that you will like. You can order your seed potatoes online and enjoy free delivery within a five mile radius!
Want to know more about the different types of seed potatoes?
Read our blog and discover your personal favourite!

Blog: Seed Potatoes Explained
How and when to plant seed potatoes
Planting seed potatoes at the right time is important. The type of seed potato, first early, second early or maincrop, determines when the seed potato is planted. First Earlies, or early-season potatoes, can be planted in early spring and harvested during summer. Second Earlies, or mid-season potatoes, are planted a bit later than first early potatoes, usually a few weeks after the first early potatoes. They typically take around 90-110 days to mature and can be harvested at the end of summer. And maincrop, or late potatoes, are typically planted in late spring, after the last frost and can be harvested around 5 months later.
Seed potatoes growing in soil that is too cold and wet may rot while potatoes that grow in soil that is too warm may not produce well. It is best to plant seed potatoes after the chance of hard frost has passed, but while you are still experiencing light frosts. If you are concerned that the weather may get too warm or too cold too fast in your area, you can try chitting your seed potatoes to help get a jump on the season. Plant the seed potatoes about 2-3 inches (5-7.5 cm) deep and about 24 inches (60 cm) apart. Light frost may kill any new growth above the soil line once they sprout, but don't panic. This will not kill the potato plant and the potatoes will regrow their foliage quickly.
Anybody can grow delicious home-grown potatoes, whether or not you have a garden. At Horticentre we are fans of Potato Patio Planters which are designed specifically for use on patios and balconies, or in small gardens. Easy to use and reusable, each holds about 40lts of compost and is suitable for 3 to 5 seed potatoes. Made from a tough, colored polyethylene with reinforced drainage holes at the base, handles on each side. Comes with a helpful growing guide to guide you through all stages of planting and harvesting your own fresh potatoes.
Now that you know these few tips on cutting and planting seed potatoes, you can look forward to a successful potato harvest. Do you want to know more about when and how to plant, grow and harvest seed potatoes? Read our blog!
Find everything you need for the best homegrown seed potatoes at Horticentre
At Horticentre we have years of experience when it comes to seed potatoes, bulbs and outdoor plants. Our experts are happy to help you with any question you might have! Come and pay us a visit or shop online in our webshop, got any questions while being on our webpage? Give us a call so we can assist you!