Reward Card
Our customer reward card is a great way for you to save money. You earn points for every pound spent on qualifying purchases, each time you visit Horticentre and these points are turned into cash that can be redeemed against purchases on your next visit or left to accumulate to be redeemed against future purchases.
Horticentre Reward Card benefits
Reward Points on all purchases excluding gift vouchers.
Exclusive members bonus points days.
Regular information on seasonal special offers and new products.
Joining is easy.
Call at the Garden Centre and pick up an application form or speak to a member of staff and they will be pleased to take your details. Cards usually take up to 3 working days to be issued, just ask a member of staff when you next visit to see if it is ready. In the unfortunate event you should you lose your card there is a small fee for a replacement but do not worry you will still have all your previously accumulated points. For all our Terms and Conditions please see below.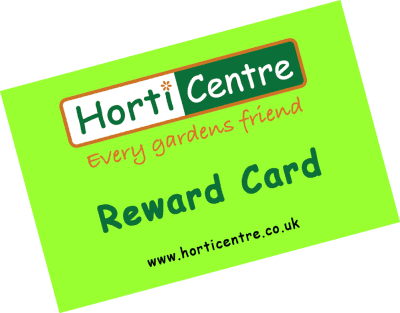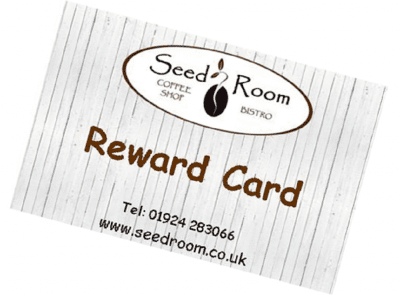 Terms and Conditions
The Horticentre/SeedRoom Reward Card is open to all residents of the UK aged 18 and over.
Horticentre/SeedRoom Reward Card remains the property of Horticentre and can be withdrawn at any time.
By applying for the Horticentre/SeedRoom Reward Card the applicant agrees to these terms and conditions. They may be altered at anytime and can be viewed at www.horticentre.co.uk.
The Horticentre/SeedRoom Reward Card must be presented at the beginning of the transaction to qualify for points.
Retrospective points cannot be awarded.
We will award points for every pound spent on qualifying purchases each time you visit the Garden Centre. Each point has a current redemption value of one penny. On your next visit you can redeem up to 90% of the value shown on the Horticentre/SeedRoom Reward Card or let the points accumulate and redeem them against future purchases. They are not redeemable for cash.
The points on the Horticentre/SeedRoom Reward Card are not transferrable and can only be redeemed by the cardholder against purchases.
Points are not awarded on purchases of Gift Vouchers or orders placed by telephone, email and through our website.
Misplaced or lost cards can be replaced on payment of £1.00 by the cardholder.
All information collected from Horticentre/SeedRoom Reward Cardholders is for administration purposes only and will not be passed to a third party.