Click & Collect Information
Order online for FREE collection within 2 hours from our store!
What is Collect in Store?
Collect in Store with HortiCentre enables you to shop in a way that suits you. This makes waiting at home for a delivery, or travelling to a depot and queuing for a collection, things of the past and it couldn't be simpler. Order online any day and we will have your order ready to collect within 2 hours (click here for our opening times). Orders placed within the last 2 hours up to midnight that day can be collected from 9am the next day but if we can sort it sooner we will let you know. Can't make it to the store right away? Don't worry, we will keep your order at the collection point for 3 days from the designated day of collection to give you ample time to get your product. Any items not collected in this time will be returned into our stock and you will receive a full refund within 3 working days.
Step 1
Browse & select your products from our wide selection of 'Collect in Store' items online
Step 2
If available, select "Collect in Store" from either the "Buy" button on the product page or from within your basket.
Step 3
We will send you an email to let you know your order is ready to collect. Please bring your order confirmation email & ID with you when collecting.
Collect in Store Terms & conditions
Order online anytime and you can collect your item(s) in store within 2 hours or if the order was placed within the last 2 hours of trading or up to midnight that day then your item(s) will be ready from 9 am the next day. Note: All collection times are within are usual opening times, if there is any change to this then we will notify you to discuss your options.
Please bring proof of ID and a copy of your confirmation email when you collect your order, this can be done via a smart phone or tablet to save wasteful printing. We will hold any products in store for a maximum of 3 days. Orders not picked up within 3 days will be returned into stock and you will be refunded within 3 working days.
Exclusions
Some items are excluded from this service. If Collect in Store is available, this will be displayed on the product details page and at checkout.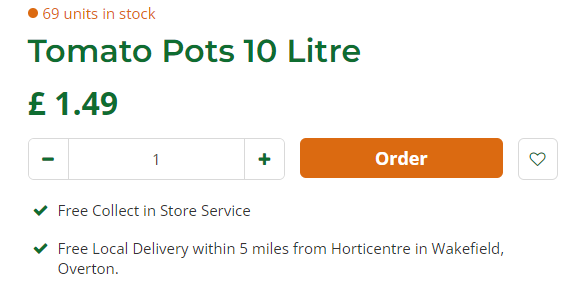 Changes to Collect in Store Service
We reserve the right to change the conditions of this service at any time.