Outdoor Planters
When it comes to beautifying your outdoor space with plants, choosing the right planter is essential. At Horticentre, we offer a wide selection of outdoor planters in various styles and materials to suit your gardening needs. Whether you prefer a modern, traditional, or eclectic look, we have the perfect options for you. Our range varies from durable plastic pots and traditional ceramic planters to terracotta pots and saucers. Browse our webshop and enjoy free local delivery when you order online!
Why choose for plastic outdoor planters?
Plastic planters are a popular choice for many garden enthusiasts. They are lightweight, durable, and come in an array of vibrant colours. Plastic planters are easy to move around and ideal for balconies or smaller outdoor spaces. They are also resistant to harsh weather conditions, making them a practical and long-lasting choice. Plastic outdoor planters come in many different colours and options such as rectangular black planters, wall-mounted pots and colourful square planters. The perfect choice to camouflage a fence or add a natural green backdrop to your outdoor space.
Lightweight and easy to move
Resistant to cracking, chipping and fading.
Afforable option
Retain the plant's moisture
Easy to clean and maintain.
While plastic planters offer numerous benefits, it's essential to choose high-quality plastic planters made from durable materials to ensure their longevity. Look for UV-resistant plastics that can withstand sun exposure without fading or becoming brittle over time.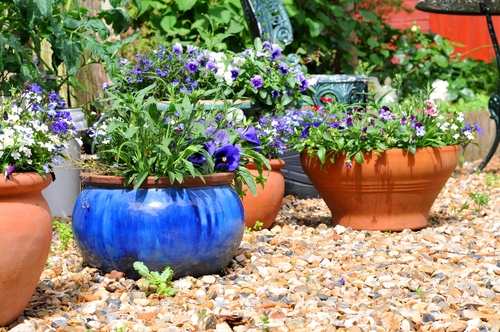 Why choose terracotta outdoor planters?
Natural and Earthy Aesthetic: Terracotta planters have a warm and rustic appearance that adds a natural and earthy touch to any outdoor setting.
Excellent Breathability: Terracotta is a porous material, which means it allows air and moisture to pass through the walls of the planter. This promotes better airflow and ventilation for the roots of your plants.
The porous nature of terracotta also helps regulate soil moisture levels. It absorbs excess water from the soil, allowing it to evaporate gradually.
Terracotta planters provide a natural insulation effect, protecting the roots of your plants from extreme temperature fluctuations.
Terracotta planters are known for their durability. When properly cared for, they can last for many years.
Stylish Ceramic outdoor pots and planters
For those seeking a touch of elegance, ceramic planters are a fantastic option. Ceramic planters are modern outdoor pots that boost your outdoor space. These planters boast exquisite craftsmanship and come in a range of eye-catching designs. Ceramic planters add a sophisticated and timeless charm to any garden or patio. While they may be slightly heavier than their plastic counterparts, ceramic planters are sturdy and can withstand various weather conditions. Ceramic planters come in a variety of colours, such as sleek black or bright white. But, you can also choose for evergreen outdoor plants in summer-coloured ceramic pots.
Ensure proper drainage for your outdoor plants
To ensure proper drainage and prevent water damage, consider adding saucers to your planters. Saucers catch excess water, protecting your surfaces from potential stains or rot. They come in various sizes and materials to match your planters and can be effortlessly paired with plastic, ceramic, or terracotta pots.
Pot feet are another essential accessory for outdoor planters. These small supports elevate your pots, allowing for better airflow and drainage. Pot feet also help to prevent waterlogging and root rot, ensuring the health and longevity of your plants.
Tip: Check your outdoor planters for drainage holes at the bottom. These holes allow excess water to escape, preventing waterlogging and promoting healthy plant growth.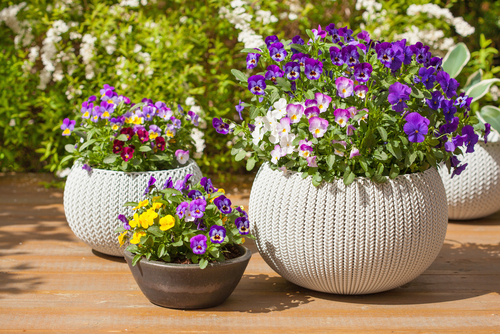 Move your planters with ease
For added convenience, explore our selection of trolleys designed specifically for planters. These practical additions make moving heavy planters a breeze. Whether you need to reposition your plants to follow the sun or rearrange your outdoor space for a gathering, trolleys provide effortless mobility.
Buy outdoor planters online at Horticentre
At Horticentre, we offer an extensive range of outdoor planters and accessories to suit every style and preference. Browse our online store to explore our diverse collection and find the perfect planters, saucers, pot feet, and trolleys for your outdoor oasis. Let your creativity bloom and transform your garden into a captivating haven with our quality products. Enjoy fast and free local delivery within a 5 mile radius. And don't forget to add some green to those planters!