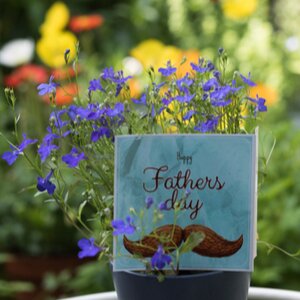 It is time to decide on Father's Day Gifts to treat the special man in your life. Treat your Dad with a special gift to show him how much you care.
1. For the Dad who likes to garden
If your Dad is into growing his own vegetables and you have to go and look for him every time the sun is out? Why not give him some nice seeds & bulbs, so he can grow his own vegetables, flowers or fruits. Smart gift, since you can all enjoy the harvest it will bring! Look forward to delicious summer fruits, healthy veggies and maybe even a wildflower garden for mom! With so many gardening gifts available, the options are endless! From hand tools to plants, pots, and ready planted hanging baskets, you really can take your pick.
2. For the Dad who likes a campfire
If your Dad likes to sit at a fire and tell adventurous stories, give him the ultimate gift and buy him a firepit! This way you can all sit around the fire on long summer nights, listening to the tall tales dad has to offer. Don't forget to bring some marshmellows!
3. For the Dad who likes to relax
If your Dad loves to sit in the garden with his feet up after a day of mowing the lawn, why not pick the perfect fragrant perennial to plant in a pot right by where he sits? He can admire the flowers and the fragrance, knowing you choose the plant just for him. Roses, Jasmine, Honeysuckle - there are many to choose from. Match your garden plant with an extraordinary plant pot, container or planter. If your dad doesn't have a green thumb, you can also give him a book to relax in the garden.
4. For the Dad who loves just about everything outdoors
Don't know what to give dad because he loves just about everything? No problem! Why not give him a Horticentre giftcard? This way he can pick his own gift. Come together and make a nice day out of it. Why not have a coffee, lunch or tea at the Seed room and enjoy father's day to the fullest!