Description
San Marzano tomatoes are a plum shaped variety grown specifically for bottling, cooking or making tomato sauces and purees, because of their deliciously dry and meaty texture. This variety have a medium late maturity.
Pack size: 75 Seeds
WHEN TO SOW
January to April
WHERE TO SOW
Sow seeds underglass 0.5cm (1/4 in) deep in pots or trays of good seed sowing compost and lightly cover with a sprinkling of vermiculite or compost. Place containers in a propagator at a temperature of 18–21°C .
WHAT TO DO NEXT
Prick out seedlings, once large enough to handle, into 9cm (3 1/2in) pots. Transplant to the greenhouse border soil, or individual large pots, or 3 plants per growbag when 20cm (8in) high. Can also be planted outdoors once all risk of frost has past. Plants require sideshooting and support for the best yields. Water and feed plants regularly with a high potash feed once the first truss has set.
MATURITY
July to October
HANDY TIP
To obtain the earliest crops, growing in polytunnels or greenhouse.
NUTRITIONAL VALUE
High in Vitamin C and lycopene.
TYPE
Indeterminate - single stem, remove side shoots.
There can hardly be a glasshouse in the country that does not have a few tomato plants growing in it, as nothing tastes quite like a tomato freshly picked from your own garden. The range of colours, shapes and sizes is obvious from the choice of 30 different varieties that we here at Kings Seeds offer. Even if you have a window box you can produce your own tomatoes. But, they are not without their problems; tomato plants are very delicate and can easily succumb to disease, they need a fair amount of attention and just a whiff of hormone spray from a neighbouring garden or field can result in deformed fruits and plants - but they are still always worth the effort!
Tomatoes are so versatile and can be used in a variety of dishes. They can be sliced to go into a sandwich or salad, chopped to be used in many Italian sauces such as a delicious bolognese or if they are a bigger variety, they can be stuffed and baked.
If you are looking for more information about this product, please visit our garden centre in Wakefield where our friendly and knowledgeable staff is ready to help you. Please visit our contact page to see our opening hours.
Our address:
HortiCentre
New Road
Overton, Wakefield, WF4 4RG
Our staff are happy to answer all your questions to help you to make the right choice, so pop in-store now. We look forward to seeing you soon.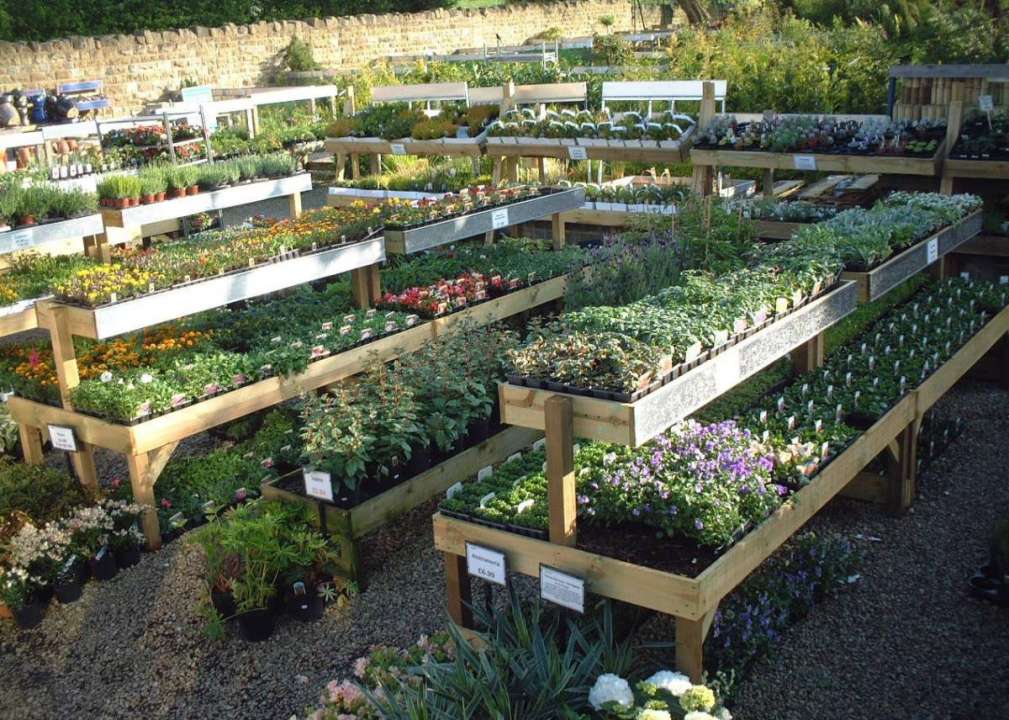 At Horticentre we have several options for you to receive your order. We offer both a free collect in Store Service and various delivery options. Your delivery charge will be displayed to you when processing your order at the online checkout and you can see our different services and price points below.
Free Collection in the Horticentre Store
This enables you to shop in a way that suits you. Collect your order either the same day (depending on your online order time) or the next day free of charge.
Seed Packet Delivery
If you are ordering just Seeds then we offer a set delivery rate of £2.35 for all orders outside 5 miles of Horticentre and FREE delivery within 5 Miles of the store.
Free delivery within 5 miles of Horticentre in Overton
We deliver your purchases free of charge within 3 to 5 working days, when you are in a 5 mile range from our garden centre in Overton, Wakefield.
Delivery further than 5 miles of Horticentre in Overton
For delivery of your purchased goods at Horticentre a bit further away from our centre in Overton, we have the following options:
Excluding heavy or oversized goods
Spend less than £40 and we will aim to deliver within 3-5 working days for £6.99
Spend over £40 and we will aim to deliver within 3-5 working days free of charge
Including medium, heavy or oversized goods
Medium sized goods [everything that's not on a pallet] will be delivered within 3-5 days, for £10
All other heavy and oversized goods being palletized delivered at £39
Heavy Goods & Oversize Items
Some items are classed as heavy or oversize such as bags of compost, gravels, bird seed, large plastics, large boxed items or tools. These may have to be sent by special courier or pallet delivery and as such fall outside our usual delivery charges.This is per our standard Terms & Conditions and if you decide you would like heavy goods delivering then the cost will be shown at the checkout once you have added your postcode to your delivery address.
Surcharge Areas
Please note: Our delivery options above only apply if you are not in a surcharge area listed below, the website calculates this at checkout upon entering a postcode for delivery.
Scottish Highlands, Republic of Ireland and Islands: Delivery surcharge of £15

Postcodes: AB31 – AB38, AB41-AB56, BT1-94, FK17 – FK21, G83, GY9, HS1 – HS9, IM, IV1 – IV49, KA27-28, KW0 – KW99, PA20 – PA99, PH15 – PH99, TR21-25, ZE1 – ZE3

Isle of Wight:

Delivery surcharge of an additional £15

Postcodes:PO30-41

We cannot ship to the following Jersey & Guernsey postcodes

Postcodes: JE1-JE5 & GY1-GY10.
Fireworks Delivery
Due to the explosive properties of fireworks we have to use special couriers to transport them and due to this nature we are unable to process Firework orders with any other product so we kindly request that customers only place orders with Fireworks and do not include any other type of product.
It is illegal to sell Fireworks to anyone under the age of 18 and there must be someone of at least 18 to sign for all deliveries, if there is no-one of that age available then delivery will be returned as undelivered and you may be charged a fee.
Our delivery prices for Fireworks
| | |
| --- | --- |
| Deliveries within 5 miles of any price | Free delivery |
| Spend over £250 | Free delivery |
| Spend between £100 – £250 | £19.95 |
| Spend between £0 – £100 | £29.95 |
These prices only apply to postcodes beginning with the following codes:
BB,BD, BL, DN1-12, HD, HG, HU, HX, LS, M, OL, S, WA, WF, WN, CH, CW, DE, DN14, FY, L, LA1-LA4, LL11-LL22, LL24-LL32, NG1-NG30, PR, SK, YO1-17, YO19, YO23-32, YO41-61, YO90-95, B, CA, CV, DH, DL, DN14-22, DN23+, DY, LA5+, LE, LN, NE, NG31-NG34, PE9-PE12, PE20-PE25, SR, ST, TS, TF, WR, WS, WV, YO18, YO21-22, YO62, AL, BN, BR, CB, CM, CR, DA, E, EC, EN, GU, HA, HP, IG, KT, LU, ME, MK, N, NN, NW, OX, RG, RH, RM, SE, SG, SL, SM, SW, TN, TW, UB, W, WC, WD, BA, BH, BS, CO, CT, EH, FK1-FK14, G1-82, GL, HR1-4, IP, KA, KY, LL23, LL33+, NR, PE1-PE8, PE13-19, PE26+, PO1-29, SN, SO, SP, SS, AB1-32, AB39, CF, DD, DT, EX, FK8, ML, NP, PA1-19, PH1-5, PH12-14, PO30-41, SY1-17, TA, TD & TQ.
Vouchers
We send all our vouchers with own in-house courier or Royal Mail 1st Class Signed. The cost of this service is a flat rate of £2.35 however large value voucher orders may need to be sent by special courier for insurance purposes and there may be a surcharge to pay. In the event of this taking place a member of staff will be in touch to discuss your options or you can contact us on 01924 280306 for more details.
Tracking Your Parcel
Horticentre will email you when your order has been dispatched or is ready for collection from store and our courier company will email you with tracking details so you can locate your parcel at any time. If you do not receive a confirmation email within 24 hours of placing your order please contact us on 01924 280 306 or [email protected].
*We currently do not offer a delivery service to addresses outside the UK