Main product features
New
Thicker lawn
Child and pet friendly
Miracle-Gro Thick'R Lawn is natural combination of grass seed, fertiliser and soil improver that will help you grow thick, beautiful grass in just one use.
Size
4kg
How to use
Miracle-Gro Thick'R Lawn is to be used on thin lawns to create a thicker, greener lawn.
Lawn preparation: Cut the lawn short at lowest mowing height, rake out dead grass and debris and gently loosen the top soil.
Shake and apply: Shake well before use to mix the pack contents. Miracle-Gro Thick'R Lawn is applied at 50g/m². Miracle-Gro Thick'R Lawn should be applied straight after the lawn preparation.
Application by hand
It is recommended to wear gloves when applying by hand.
The product can be applied by hand at 50g/m², and should be applied evenly.
Using your hand, apply half of the product in one direction and the other half in the other direction (criss cross pattern) to get an even coverage. For a visual guide to the correct application rate, first spread 1 handful over a small measured area.
Application by spreader
It is recommended to apply Miracle-Gro® Thick'R Lawn by an EverGreen Spreader for an even distribution. Use our easy-to-use spreader settings table to set Scotts® and EverGreen® spreaders correctly when using our products.
Any other advice?
Mowing
Continue with mowing on a regular basis once the lawn reaches the desired mowing height. Regular mowing will help maintain a thick lawn.
Watering-in
If no rain falls within 48 hours, water the product after application. Then water twice a day or as needed during the first two weeks to keep the surface moist to support seed germination and establishment.
Feeding
It is recommended to feed the lawn on a regular basis to maintain a great looking lawn. The first application with a suitable fertiliser can be at 10 weeks after application of Miracle-Gro Thick'R Lawn. Regular feeding with a suitable fertiliser will help keep the lawn thick and healthy.
What about children and pets?
It's fine to use Miracle-Gro Thick'R Lawn in gardens with children and pets, but little feet can damage developing seedlings, so it's best to keep them off the treated areas until the grass has established.
Where to use
For use on lawns.
When to use
From March to September. Miracle-Gro Thick'R Lawn can be applied in spring once the grass is actively growing and frost has passed.
Fertiliser analysis
NPK 9-4-0.
Cautions
We recommend you always wear gloves when gardening.
Avoid walking or allowing pets on treated areas.
Do not exceed the maximum recommended application rate as over-application can damage your lawn.
Always read the label and product information before use.
If you are looking for more information about this product, please visit our garden centre in Wakefield where our friendly and knowledgeable staff is ready to help you. Please visit our contact page to see our opening hours.
Our address:
HortiCentre
New Road
Overton, Wakefield, WF4 4RG
Our staff are happy to answer all your questions to help you to make the right choice, so pop in-store now. We look forward to seeing you soon.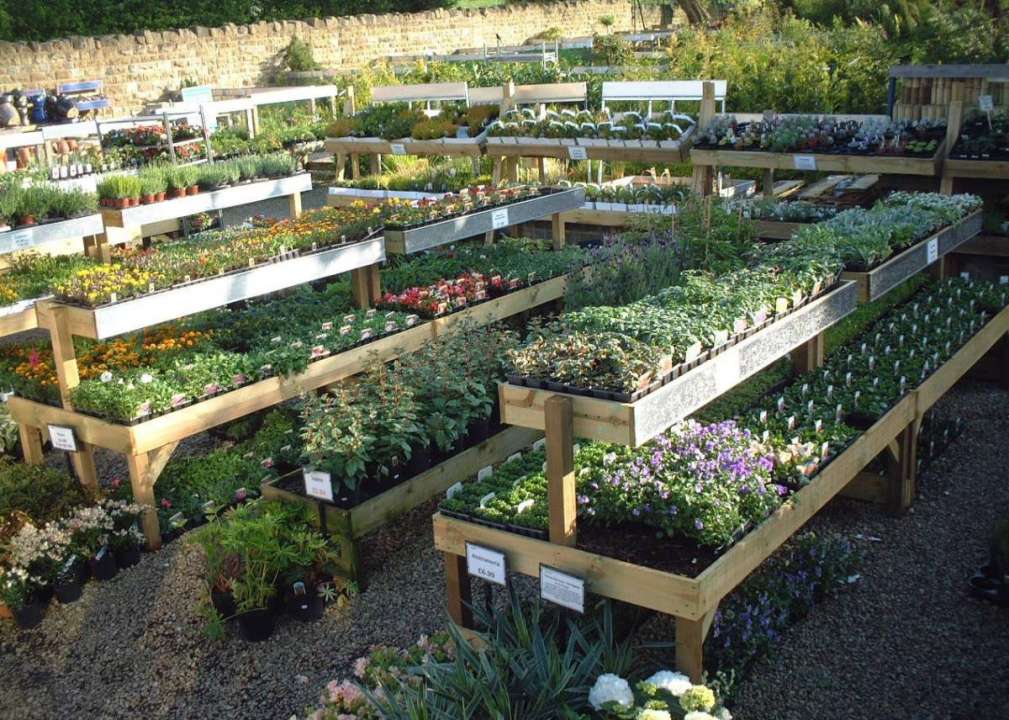 At Horticentre we have several options for you to receive your order. We offer both a free collect in Store Service and various delivery options. Your delivery charge will be displayed to you when processing your order at the online checkout and you can see our different services and price points below.
Free Collection in the Horticentre Store
This enables you to shop in a way that suits you. Collect your order either the same day (depending on your online order time) or the next day free of charge.
Seed Packet Delivery
If you are ordering just Seeds then we offer a set delivery rate of £2.35 for all orders outside 5 miles of Horticentre and FREE delivery within 5 Miles of the store.
Free delivery within 5 miles of Horticentre in Overton
We deliver your purchases free of charge within 3 to 5 working days, when you are in a 5 mile range from our garden centre in Overton, Wakefield.
Delivery further than 5 miles of Horticentre in Overton
For delivery of your purchased goods at Horticentre a bit further away from our centre in Overton, we have the following options:
Excluding heavy or oversized goods
Spend less than £40 and we will aim to deliver within 3-5 working days for £6.99
Spend over £40 and we will aim to deliver within 3-5 working days free of charge
Including medium, heavy or oversized goods
Medium sized goods [everything that's not on a pallet] will be delivered within 3-5 days, for £10
All other heavy and oversized goods being palletized delivered at £39
Heavy Goods & Oversize Items
Some items are classed as heavy or oversize such as bags of compost, gravels, bird seed, large plastics, large boxed items or tools. These may have to be sent by special courier or pallet delivery and as such fall outside our usual delivery charges.This is per our standard Terms & Conditions and if you decide you would like heavy goods delivering then the cost will be shown at the checkout once you have added your postcode to your delivery address.
Surcharge Areas
Please note: Our delivery options above only apply if you are not in a surcharge area listed below, the website calculates this at checkout upon entering a postcode for delivery.
Scottish Highlands, Republic of Ireland and Islands: Delivery surcharge of £15

Postcodes: AB31 – AB38, AB41-AB56, BT1-94, FK17 – FK21, G83, GY9, HS1 – HS9, IM, IV1 – IV49, KA27-28, KW0 – KW99, PA20 – PA99, PH15 – PH99, TR21-25, ZE1 – ZE3

Isle of Wight:

Delivery surcharge of an additional £15

Postcodes:PO30-41

We cannot ship to the following Jersey & Guernsey postcodes

Postcodes: JE1-JE5 & GY1-GY10.
Fireworks Delivery
Due to the explosive properties of fireworks we have to use special couriers to transport them and due to this nature we are unable to process Firework orders with any other product so we kindly request that customers only place orders with Fireworks and do not include any other type of product.
It is illegal to sell Fireworks to anyone under the age of 18 and there must be someone of at least 18 to sign for all deliveries, if there is no-one of that age available then delivery will be returned as undelivered and you may be charged a fee.
Our delivery prices for Fireworks
| | |
| --- | --- |
| Deliveries within 5 miles of any price | Free delivery |
| Spend over £250 | Free delivery |
| Spend between £100 – £250 | £19.95 |
| Spend between £0 – £100 | £29.95 |
These prices only apply to postcodes beginning with the following codes:
BB,BD, BL, DN1-12, HD, HG, HU, HX, LS, M, OL, S, WA, WF, WN, CH, CW, DE, DN14, FY, L, LA1-LA4, LL11-LL22, LL24-LL32, NG1-NG30, PR, SK, YO1-17, YO19, YO23-32, YO41-61, YO90-95, B, CA, CV, DH, DL, DN14-22, DN23+, DY, LA5+, LE, LN, NE, NG31-NG34, PE9-PE12, PE20-PE25, SR, ST, TS, TF, WR, WS, WV, YO18, YO21-22, YO62, AL, BN, BR, CB, CM, CR, DA, E, EC, EN, GU, HA, HP, IG, KT, LU, ME, MK, N, NN, NW, OX, RG, RH, RM, SE, SG, SL, SM, SW, TN, TW, UB, W, WC, WD, BA, BH, BS, CO, CT, EH, FK1-FK14, G1-82, GL, HR1-4, IP, KA, KY, LL23, LL33+, NR, PE1-PE8, PE13-19, PE26+, PO1-29, SN, SO, SP, SS, AB1-32, AB39, CF, DD, DT, EX, FK8, ML, NP, PA1-19, PH1-5, PH12-14, PO30-41, SY1-17, TA, TD & TQ.
Vouchers
We send all our vouchers with own in-house courier or Royal Mail 1st Class Signed. The cost of this service is a flat rate of £2.35 however large value voucher orders may need to be sent by special courier for insurance purposes and there may be a surcharge to pay. In the event of this taking place a member of staff will be in touch to discuss your options or you can contact us on 01924 280306 for more details.
Tracking Your Parcel
Horticentre will email you when your order has been dispatched or is ready for collection from store and our courier company will email you with tracking details so you can locate your parcel at any time. If you do not receive a confirmation email within 24 hours of placing your order please contact us on 01924 280 306 or [email protected].
*We currently do not offer a delivery service to addresses outside the UK